Welcome to the
North Carolina Natural Heritage Data Explorer
Interactive access to maps of Natural Heritage resources for North Carolina.
We recommend using up-to-date versions of the following web browsers: Chrome, Firefox, or Internet Explorer. Note: The Data Explorer does not work with Internet Explorer 10 or earlier. If you're having problems regardless of the web browser you're using, try clearing your browser's cache.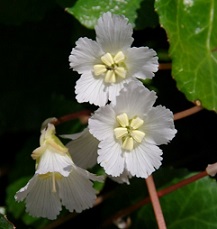 Open Access: Use the Map to view, query, and create maps of natural heritage and other natural resource data.
Use Species/Community Search to search our database and create summaries of natural heritage resources by county, USGS topographic map, conservation status rank, protection status, and taxonomic group.
Subscription Access: To access sensitive natural heritage data and use the data explorer for site-specific project review, you must first create a Data Explorer account and create or join a subscription. For more information, please see the Help page. Training is required before access is allowed. Training is provided at no cost. Please see below for upcoming training opportunities.
IMPORTANT
Within the next few weeks, the Natural Heritage Program will implement fees to defray costs associated with online access to natural heritage data, environmental review services, and field surveys, as authorized by § 113A-164.12. Fees collected will allow NCNHP to continue to provide these services and operate the Natural Heritage Data Explorer (NHDE). We will post more information to our website as soon as the fees are approved. If you have immediate questions, please contact Misty Buchanan at 919-707-8107 or misty.buchanan@ncdcr.gov.
Please take a few moments to complete a brief online SURVEY, to help us improve the website to better meet your needs.
For more information about the North Carolina Natural Heritage Program, visit our homepage.
The next training opportunities are currently scheduled for the following dates and locations.  To register for a training session, please click the appropriate link and fill out a registration form.  Training is provided at no cost, and a confirmation email will be sent just before the training session for which you have registered.  If you have questions or need additional assistance, please contact Suzanne Mason at suzanne.mason@ncdcr.gov or 919-707-8637.
NCDEQ Headquarters, 217 W. Jones Street, Raleigh, NC 27601 - Ground Floor Training Room
Wednesday, August 31, 2016
10a - 12noon

(For state, federal, and local government staff AND non-government individuals)
NCDEQ Headquarters, 217 W. Jones Street, Raleigh, NC 27601 - Ground Floor Training Room
Friday, September 23, 2016
10a - 12noon

(For state, federal, and local government staff AND non-government individuals)